Hi fashionistas and Happy Friday! I feel like during the week I find so many things that I want to show you guys or talk about but don't want to blow up your Insta feeds SO consider this the first week of "Friday Finds" where I'll be sharing some steals and deals that have caught my eye during the week. Don't worry, your regularly scheduled content will still be coming at ya, this will just be a new addition 🙂 So see below for the first edition of Friday Finds! 
I mentioned this sweatshirt in my A is for Athleisure post and did indeed end up purchasing this (in Deep Plum) and OMG guys I've literally been living in it. It's the definition of the perfect comfy, oversize (but not frumpy) fall sweater. I've been rocking mine with leggings and combat boots (much to my mother's dismay; hi mom!) for errands, works and everything in between. After reading reviews on the site, I sized down from my normal size and it fits perfectly, so I highly recommend you do the same. P.S this is currently on sale for $35.00 and I'm pretty sure I'm gonna snag the Dark Heather (or maybe the Olive Fun or maybe both hehe)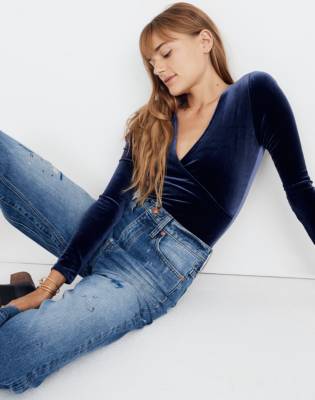 I found this gem while perusing the sale section of the Madewell site on my way to work this morning and immediately knew I had to include it in this post. Something about velvet instantly brings me into the holiday mindset (and if you follow me on Insta @loansandlouboutins you know my mind is already there) and there's really nothing I love more than this festive season. This bodysuit cane be dressed down with jeans like the model in the picture above or dressed up with a skirt and boots for a night out!
P.S. a little extra Friday Find from Madewell is that they're currently running a sale on bralettes for $20 and undies for $8. It's Friday. Treat yo self.
I talked a bunch about First Aid Beauty in my
Skincare Post
and that's because I really just love this brand so dang much! Right now you can test out this brand for yourself with a new launch that bundles a face cleanser and exfoliation/clearing pads based on your skin needs. One duo caters to basic cleansing, another to acne clearing and the last to deep cleansing. Not only are these duos an absolute bargain at $35, but they also include this adorable free bag and deluxe sample of their ultra repair cream (my all time favorite product!). Honestly, these duos are a must must must have in my opinion.
Pretty much all of my outfits start with a base of a plain t-shirt and with the colder months upon us, I was disappointed when I swapped in my fall/winter wardrobe and remember I was seriously lacking in the long-sleeve tee department. Enter Old Navy for the win. This shirt is currently only $10.00 and there are few colors available. At this price I'll probably be stocking up for the season and at this price, you should too!
I've been absolutely dying for a pair of over-the-knee boots but I've been hesitant because a) I'm only 5'3 and I'm afraid these will overwhelm my body b) they can be expensive! These ASOS boots knock both those worries out of my head with a nice 4″ inch heel and a price point that seems totally appropriate for trying a new trend ($63.00). I have a feeling these bad boys are gonna make me feel some serious Ariana Grande vibezzzz.
That's a wrap on the first Friday Finds post! Let me know what you guys think about continuing this series 🙂